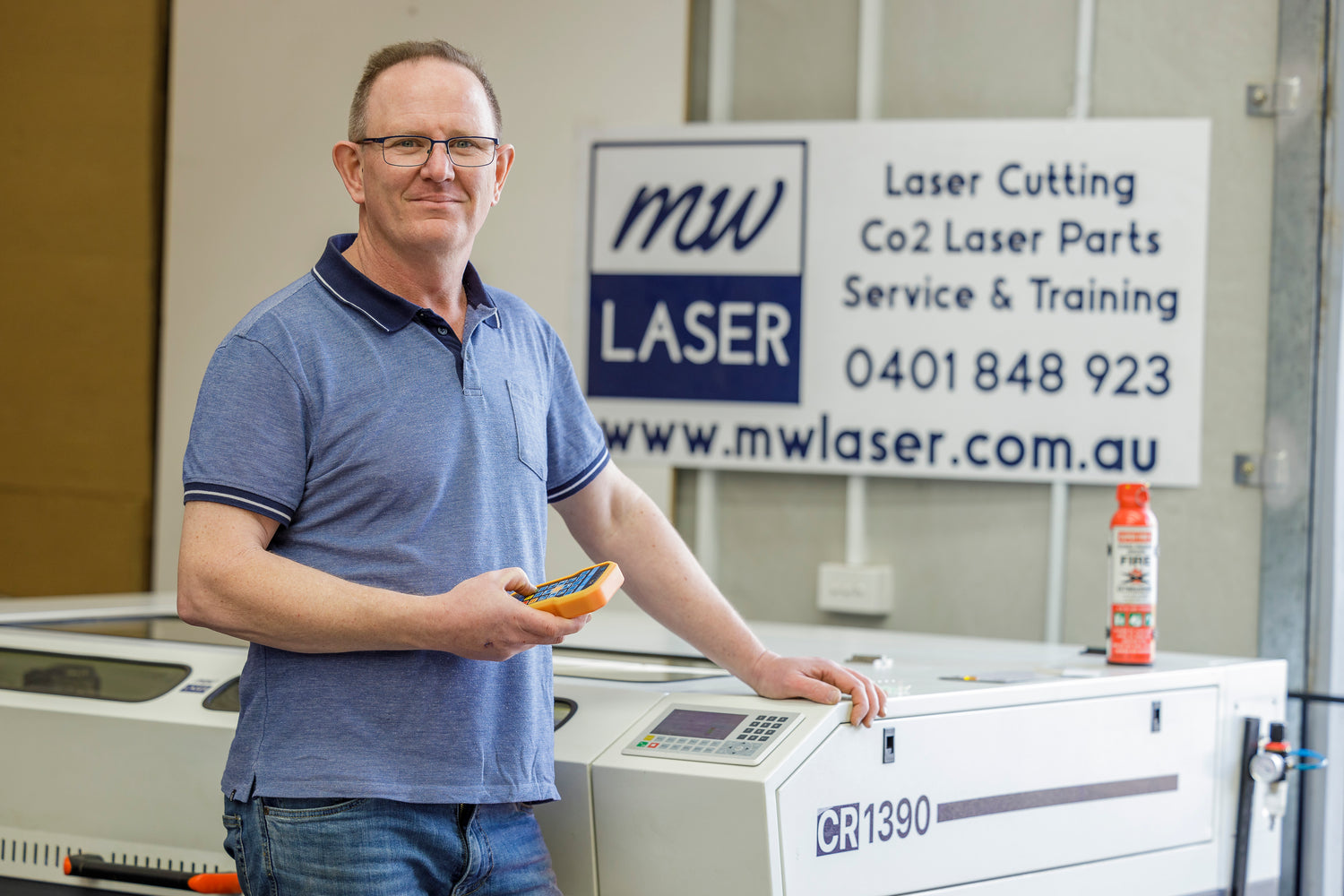 Laser Support & Training
Did you know that MW Laser provides Onsite and Remote Service, Repairs & Training options for your Laser Machine?
MW Laser cater to a wide range of makes and models, including machines from other manufacturers.
Click Here To Learn More
Welcome to MW Laser.
MW Laser Machines - Precision in Every Beam
At MW Laser Machines, we're your gateway to a world of precision, innovation, and boundless creativity. Our mission is to empower businesses, artists, and enthusiasts to harness the power of CO2 laser machines, unlocking new realms of possibility. As you step into our world, let us introduce you to the marvel that is a CO2 Laser Machine.
What is a CO2 Laser Machine?
A CO2 Laser Machine is a cutting-edge tool that harnesses the power of laser light to create, cut, and engrave with extraordinary precision. At its heart, it employs a high-intensity beam of infrared light generated from the excitation of carbon dioxide gas. This laser beam, meticulously focused, is a versatile tool capable of transforming a wide range of materials with pinpoint accuracy.
Why Choose an MW Laser Machine?
The allure of CO2 Laser Machines lies in their versatility and unrivaled precision. Whether you're dreaming of crafting intricate pieces, creating personalized gifts, or revolutionizing your industrial processes, these machines empower you to turn your vision into reality. With minimal material waste, unparalleled accuracy, and the ability to work on various materials, MW Laser Machines are your key to efficiency, creativity, and limitless possibilities.
For more detailed information visit our Blog post
Why choose an MW Laser Machine over cheaper Laser Models.
Are you thinking of starting your own home based business?
Check out our Blog post about How a CO2 Laser Cutter Can Launch Your Home-Based Business
Take the Next Step with MW Laser Machines
Ready to embark on a journey of innovation and precision? MW Laser Machines is your trusted partner on this path. We offer a range of CO2 Laser Machines, each designed to meet your unique needs, from hobbyist to industrial scale. Our machines are a testament to quality, reliability, and the pursuit of perfection.
Contact Us for More Information
If you're ready to explore the world of CO2 Laser Machines or seek guidance on choosing the right solution for your needs, don't hesitate to get in touch with us. Contact MW Laser Machines today, and let's transform your vision into reality, one laser beam at a time. Your journey to precision begins here.

MW Laser Machines, where precision meets innovation.